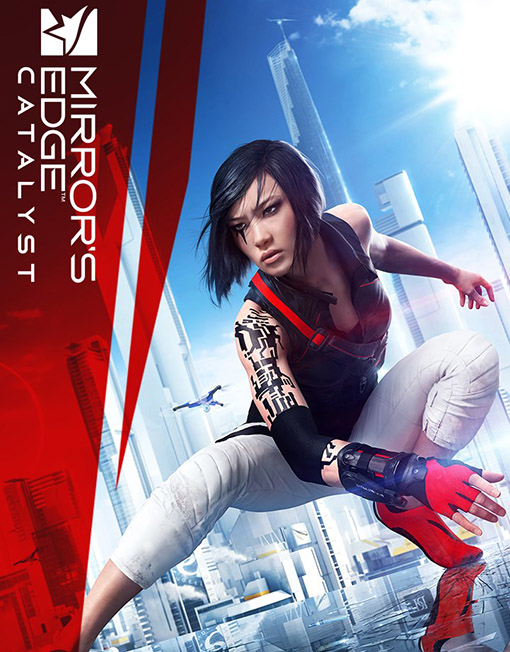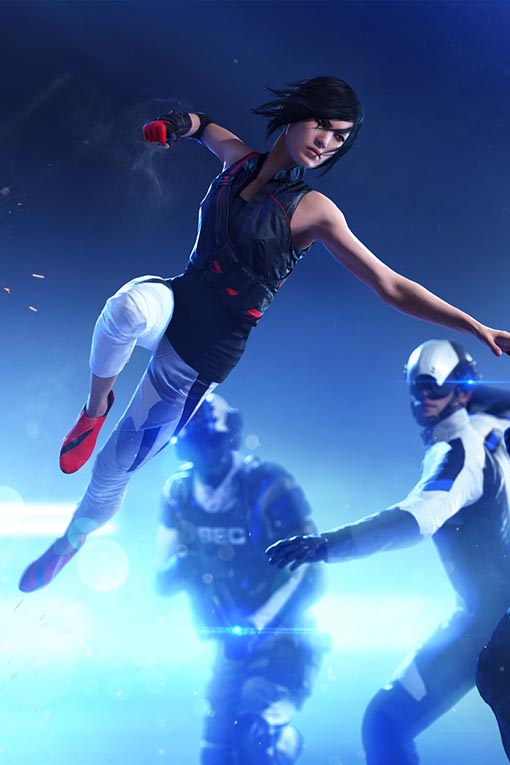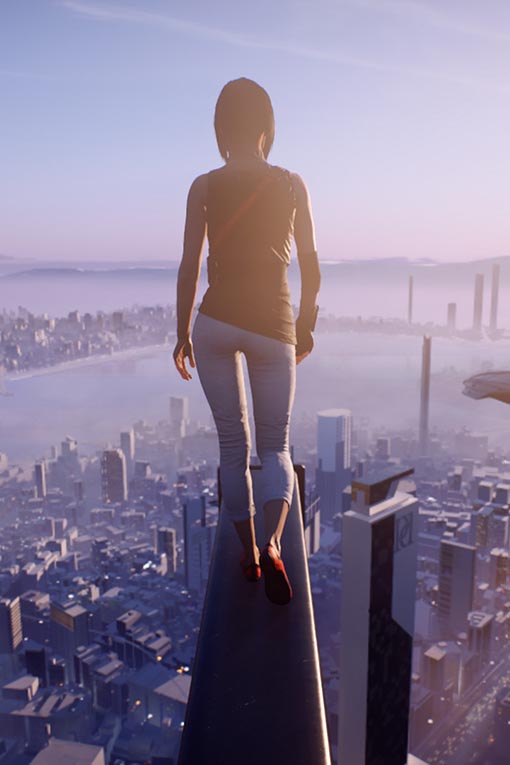 Mirror's Edge Catalyst raises the action-adventure bar through fluid, first person action and immerses players in Faith's story as she fights for freedom.
Description
Follow Faith, a daring free runner, as she fights for freedom in the city of Glass. What appears to be an elegant, high-tech city on the outside, has a terrible secret hidden within. Explore every corner from the highest beautifully lit rooftops to the dark and gritty tunnels below. The city is huge, free to roam and Faith is at the center of it all. Through the first-person perspective, combine her fluid movement and advanced combat with the city's surroundings to master the environment and uncover the conspiracy.
TRAVERSAL
Hit top speed quickly zipping down wire lines. Balance on pipes before smoothly dropping to a hang before climbing, hand over hand, under an obstacle. Run vertically and horizontally on any wall and use your environment to swing around corners or over gaps.
FOCUS
Fast, light, and agile, Faith must stay focused and use her movement to survive. Focus is gained from free running, and once Faith has Focus enemies cannot hit her. Focus is lost from low speed and being attacked, so it is essential to maintain a balance of out-traversing opponents and engaging them directly.
MOMENTUM
Build momentum to do daring jumps between rooftops or stylish slides through tight spaces. Use the new Shift move to get a short burst of acceleration in any direction. For a quick change of plan, tweak any move with Quickturn, a rapid 180 or 90 degree turn.
COMBAT
Deliver devastating full body Heavy Traversal Attacks that throw your opponents stumbling into walls, over railings, and into each other. Use your momentum to flow right through KrugerSec as you string together a series of Light Traversal Attacks, building focus, and keeping speed. Outmaneuver opponents as you Shift behind them for a kick to the back. Or take advantage of a stun with a few rapid punches before Shifting away to avoid retaliation or a counter.
GADGETS
Faith's running skills, martial arts knowledge, and determination is expanded on with a few pieces of hardware used to traverse the city and rise against the oppression smothering the citizens of Glass.
DASHES AND TIME TRIALS
Will you be the fastest Runner in the city of Glass? Create your own Time Trials and share them with your friends. You can also take on the challenging Dashes designed by DICE and try to find the optimal route using your fluid movement. For a thrilling treasure hunt in the city, place a Beat Location Emitter on a hard-to-reach place for your friends to find.
Additional information
| | |
| --- | --- |
| Hardware | PC |
| Region | Worldwide |
| Platform | EA App |
| Genre | Action, Adventure |
| Metacritic Rating | 74 |
System Requirements
PC Requirements
Minimum:
Requires a 64-bit processor and operating system
OS: Windows 7 64-Bit (use the latest Service Pack)
Processor: Intel i3-3250 / AMD FX-6350. (Note: Mirror's Edge Catalyst requires at least 4 logical cores to run)
Memory: 6 GB RAM
Graphics: NVIDIA GeForce GTX 650 Ti 2GB or better / AMD Radeon R9 270x or better
Storage: 25 GB available space
Recommended:
Requires a 64-bit processor and operating system
OS: Windows 10 64-Bit (use the latest Service Pack)
Processor: Intel Core i7-3770 at 3.4 GHz / AMD FX-8350 at 4.0 GHz
Memory: 16 GB RAM
Graphics: NVIDIA GeForce GTX 970 4GB or better / AMD Radeon R9 280x 3GB or better
Storage: 25 GB available space
Product FAQ
What's included with Mirror's Edge Catalyst?
Mirror's Edge Catalyst base game for PC – downloaded via Origin.
Is there any region lock for Mirror's Edge Catalyst?
No. There is no region lock. This game can be played worldwide.
How will I receive my download for Mirror's Edge Catalyst?
We process your order and send out your game key through a delivery email. This is typically done within 10-15 minutes during our online times (9am – 10pm UK). Once you receive your game key, you can follow our activation guide to redeem the key on the corresponding platform.
How do I activate the key for Mirror's Edge Catalyst?
We provide a step-by-step guide for all platforms. Simply follow the activation guide provided with game key.
CD Key FAQ
All of our products are digitally delivered in the form of a CD key or product code. Our products are all redeemable via official platforms such as Steam, Origin, Xbox etc.
What is a CD key?
The CD key is the serial number or product code which is usually made up of a combination of letters and numbers. This key or code is used to activate the product and is normally found on a sticker inside the game case or booklet. When purchased the CD key allows you to register and activate the relevant game or software. All of our CD keys are currently provided in simple text format.
How does digital delivery work?
After completing the purchase at checkout we verify the purchase according to our fraud checks to ensure that the purchase is genuine. Following this you will receive an email containing your CD key or product code along with full download instructions.
Need further information?
If you require any further information then be sure to check our Frequently Asked Questions page.
If your question is not answered in the FAQ then please Contact Us.