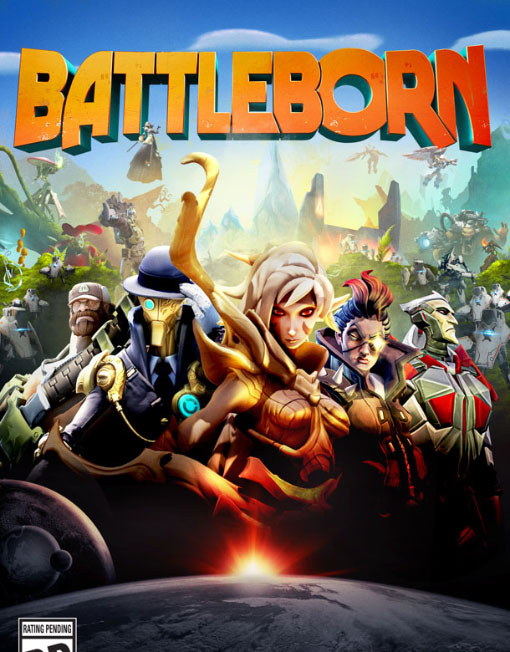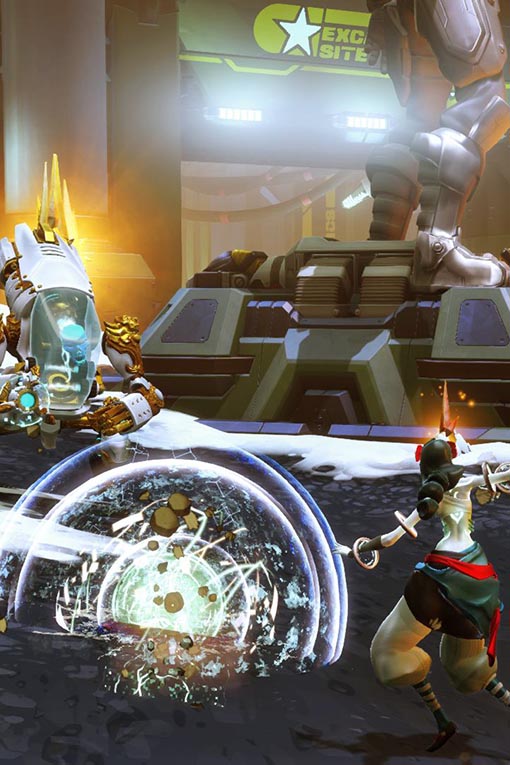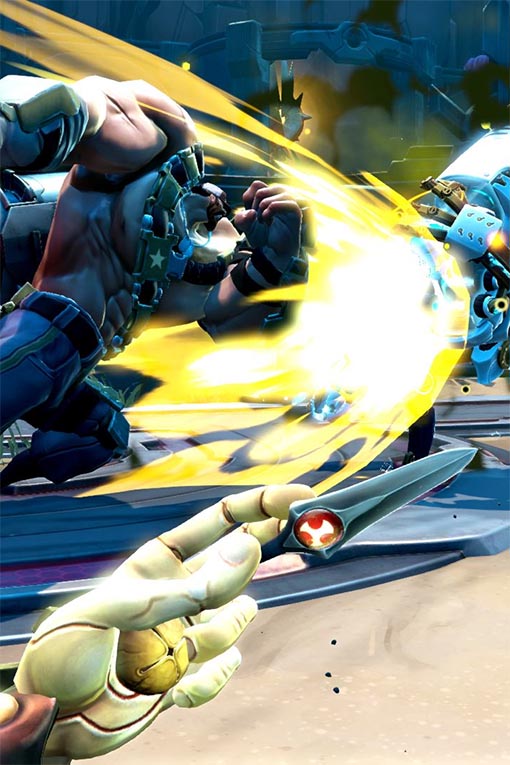 A tremendous band of badass heroes fight to protect the universe's very last star from a mysterious evil in this next-gen shooter by the creators of Borderlands.
Description
A tremendous band of badass heroes fight to protect the universe's very last star from a mysterious evil in this next-gen shooter by the creators of Borderlands. To defend it, you'll need to utilize every type of character and weapon you've ever imagined — from cyborg hawkmen to samurai vampires to mini-gun wielding man-mountains. Slash and parry, run and gun, cast and dash, or simply obliterate foes all while building and growing your personal team of heroes. Choose your hero and fight alone or co-operatively alongside friends in story missions, or battle against them in fast-paced competitive multiplayer matches.
Game Features:
Story Mode: Battleborn's Story Mode is a narrative experience that can be played entirely singleplayer and is even better when it's played cooperatively with friends.
Multiplayer: Battleborn's team-based competitive multiplayer action can be experienced by up to 10 players online in 5v5 matches, and includes three distinct multiplayer modes.

Incursion: Teams of heroes must defend their base from waves of AI-controlled minions while working together alongside their own minions to destroy their opponent's base.
Capture: Teams of heroes face off in a fast-paced death match and must capture and hold objectives on the map to win.
Meltdown: Teams of heroes must guide their minions as they march to their death at the center of the map. Points are scored for every minion who throws themselves into the incinerator, and the team with the most points wins.

Persistent Progression System: All experience points, whether earned through playing Battleborn's Story Mode or Competitive Multiplayer modes, contribute to leveling up individual Character Rank, as well as player profile Command Rank.

Character Rank: Each hero can permanently rank up from 1 to 10 outside of missions and matches, allowing players to swap out augments in their helix skill tree, as well as unlock skins.
Command Rank: Players can rank up their own player profile, unlocking badges and titles to impress friends, and loot that can be used to benefit any hero the player chooses to command.

Factions: The last star, Solus, is the only beacon of hope for the universe's surviving factions.

The Peacekeepers are sworn protectors of Solus
The Eldrid are preservers of the natural order of the universe
The Rogues are mercenaries only concerned with their own survival
The Last Light Consortium (LLC) are war profiteers, exploiting others for their own gain
The Jennerit Empire rule others by force, valuing power above all else

Battleborn Heroes: Battleborn has a deep roster of 25 playable heroes and no two are the same. Every hero has their own personality and comes equipped with their own unique weapons and powers.
Helix System: Battleborn's accelerated character growth system allows players to level-up a character from 1 to 10 and fully experience each hero's unique weapons and powers in a single story mission or multiplayer match.
Additional information
| | |
| --- | --- |
| Hardware | PC |
| Region | Worldwide |
| Platform | Steam |
| Genre | Action, Shooter |
| Metacritic Rating | 69 |
System Requirements
PC Requirements
Minimum:
OS: Windows® 7 x64-bit or Later
Processor: Intel i5-750 / AMD Phenom IIx4 945
Memory: 6 GB RAM
Graphics: AMD HD 6870/ NVIDIA GeForce GTX 460 or better, PhysX support
DirectX: Version 11
Network: Broadband Internet connection
Storage: 30 GB available space
Sound Card: DirectX 11 Compliant
Additional Notes: Initial installation requires an internet connection for Steam authentication, and gameplay; software installations require (included with the game) include Steam Client, DirectX 11, NVidia PhysX, .Net Framework 4.5, Visual C++ Redistributable 2010, and Visual C++ Redistributable 2012.
Recommended:
OS: Windows® 7 x64-bit or Later
Processor: Intel i5-750 / AMD Phenom IIx4 945
Memory: 6 GB RAM
Graphics: AMD HD 7850/ NVIDIA GeForce GTX 660 or better, PhysX support
DirectX: Version 11
Storage: 50 GB available space
Product FAQ
What's included with Battleborn Full Game?
Battleborn Full Game for PC – downloaded via Steam.
Is there any region lock for Battleborn Full Game?
No. There is no region lock. This game can be played worldwide.
How will I receive my download for Battleborn Full Game?
We process your order and send out your game key through a delivery email. This is typically done within 10-15 minutes during our online times (9am – 10pm UK). Once you receive your game key, you can follow our activation guide to redeem the key on the corresponding platform.
How do I activate the key for Battleborn Full Game?
We provide a step-by-step guide for all platforms. Simply follow the activation guide provided with game key.
CD Key FAQ
All of our products are digitally delivered in the form of a CD key or product code. Our products are all redeemable via official platforms such as Steam, Origin, Xbox etc.
What is a CD key?
The CD key is the serial number or product code which is usually made up of a combination of letters and numbers. This key or code is used to activate the product and is normally found on a sticker inside the game case or booklet. When purchased the CD key allows you to register and activate the relevant game or software. All of our CD keys are currently provided in simple text format.
How does digital delivery work?
After completing the purchase at checkout we verify the purchase according to our fraud checks to ensure that the purchase is genuine. Following this you will receive an email containing your CD key or product code along with full download instructions.
Need further information?
If you require any further information then be sure to check our Frequently Asked Questions page.
If your question is not answered in the FAQ then please Contact Us.