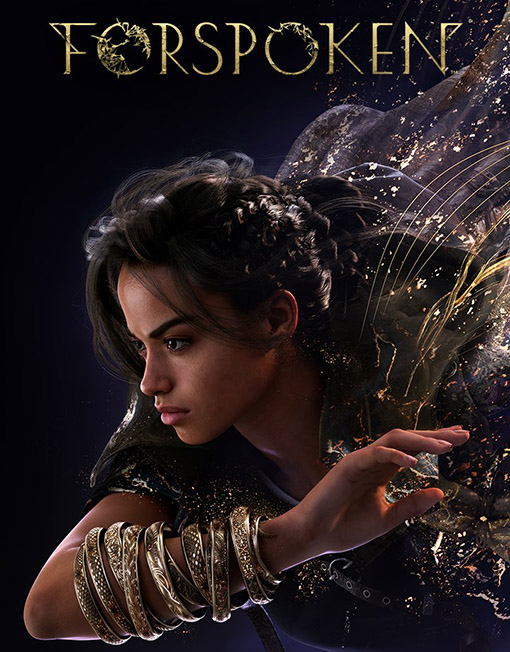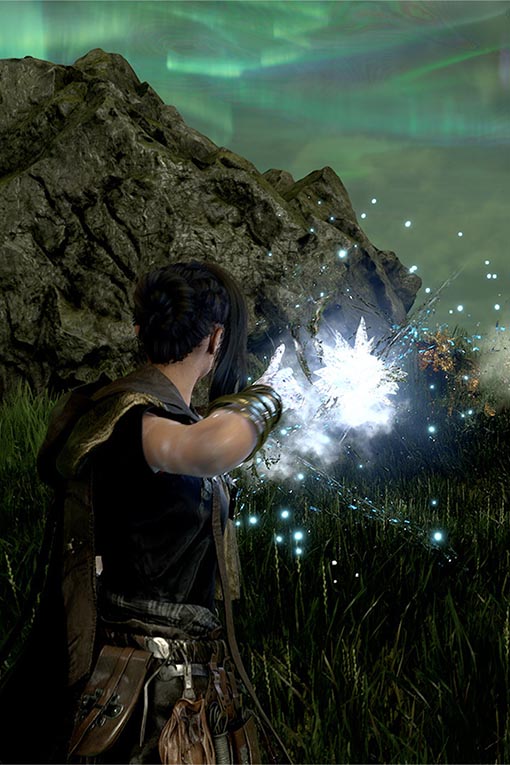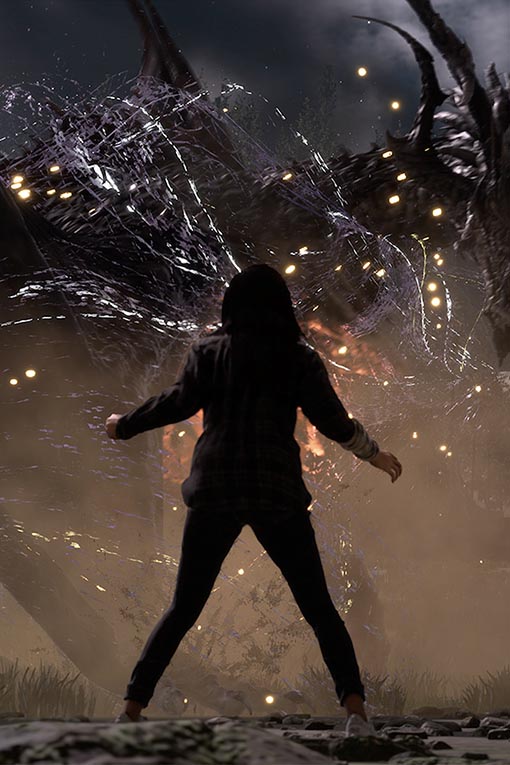 Forspoken follows the journey of Frey, a young New Yorker transported to the beautiful and cruel land of Athia. In search of a way home, Frey must use her newfound magical abilities to traverse sprawling landscapes and battle monstrous creatures.
Description
Mysteriously transported from New York City, Frey Holland finds herself trapped in the breathtaking land of Athia. A magical, sentient bracelet is inexplicably wrapped around her arm, and Frey discovers the ability to cast powerful spells and use magic to traverse the sprawling landscapes of Athia. Frey nicknames her new golden companion "Cuff" and sets off to find a way home.
Frey soon learns this beautiful land once flourished under the reign of benevolent matriarchs, called Tantas, until a devastating blight relentlessly corrupted everything it touched. The Break transformed animals into beasts, men into monsters, and rich landscapes into four dangerous realms. At the center of their shattered domains, the Tantas now rule as maddened and evil sorceresses.
Unaffected by the Break and desperate for answers, Frey reluctantly agrees to help the last remaining citizens of Athia who see her as their only hope. Frey's journey through this strange and treacherous land will take her deep into the heart of corruption where she must battle monstrous creatures, confront the powerful Tantas, and uncover secrets that awaken something much more from within.
KEY FEATURES:
The Odyssey of a Reluctant Hero
Lead Frey on an unforgettable journey in her search for a way home after being mysteriously transported to a breathtaking, fantastical land. Unravel the mysteries of Athia as Frey travels through the calamitous Break and discovers how to wield an immense power.
A Beautiful and Cruel Open-World –
Explore the sprawling realms of Athia, a striking land of remarkable vistas and otherworldly creatures brought to life through stunning graphics and cutting-edge technology. Venture deep into corrupted territories where a mysterious darkness defiles everything it touches.
Customizable Arsenal of Spells –
Take on twisted monsters in magical combat with a wide range of powerful abilities catering to a variety of playstyles – from fast-paced and exhilarating to strategic and methodical.
Intuitive, Magic-Enhanced Parkour –
Scale walls, vault across canyons, leap from dizzying heights, and dash through vast landscapes. Frey's unique abilities allow her to fluidly traverse the open world with ease.
Additional information
| | |
| --- | --- |
| Hardware | PC |
| Region | Worldwide, UK / EU |
| Platform | Steam |
| Genre | Action, Adventure, RPG |
System Requirements
PC Requirements
Minimum:
Requires a 64-bit processor and operating system
OS: Windows 10 64-bit (After November 2019 Update) or Windows 11 64-bit
Processor: AMD Ryzen 5 1600 (3.7GHz or better) / Intel® Core i7-3770 (3.7GHz or better)
Memory: 16 GB RAM
Graphics: AMD Radeon RX 5500 XT 8GB / NVIDIA GeForce GTX 1060 6 GB VRAM
DirectX: Version 12
Storage: 150 GB available space
Additional Notes: 720p 30fps
Recommended:
Requires a 64-bit processor and operating system
OS: Windows 10 64-bit (After November 2019 Update) or Windows 11 64-bit
Processor: AMD Ryzen 5 3600 (3.7 GHz or better) / Intel Core i7-8700K (3.7GHz or better)
Memory: 24 GB RAM
Graphics: AMD Radeon RX 6700 XT 12GB / NVIDIA GeForce RTX 3070 8 GB VRAM
DirectX: Version 12
Storage: 150 GB available space
Additional Notes: 1440p 30fps, SSD 150GB
Product FAQ
What's included with Forspoken?
Forspoken base game for PC – downloaded via Steam.
Is there any region lock for Forspoken?
No. There is no region lock. This game can be played worldwide.
How will I receive my download for Forspoken?
We process your order and send out your game key through a delivery email. This is typically done within 10-15 minutes during our online times (9am – 10pm UK). Once you receive your game key, you can follow our activation guide to redeem the key on the corresponding platform.
How do I activate the key for Forspoken?
We provide a step-by-step guide for all platforms. Simply follow the activation guide provided with game key.
CD Key FAQ
All of our products are digitally delivered in the form of a CD key or product code. Our products are all redeemable via official platforms such as Steam, Origin, Xbox etc.
What is a CD key?
The CD key is the serial number or product code which is usually made up of a combination of letters and numbers. This key or code is used to activate the product and is normally found on a sticker inside the game case or booklet. When purchased the CD key allows you to register and activate the relevant game or software. All of our CD keys are currently provided in simple text format.
How does digital delivery work?
After completing the purchase at checkout we verify the purchase according to our fraud checks to ensure that the purchase is genuine. Following this you will receive an email containing your CD key or product code along with full download instructions.
Need further information?
If you require any further information then be sure to check our Frequently Asked Questions page.
If your question is not answered in the FAQ then please Contact Us.