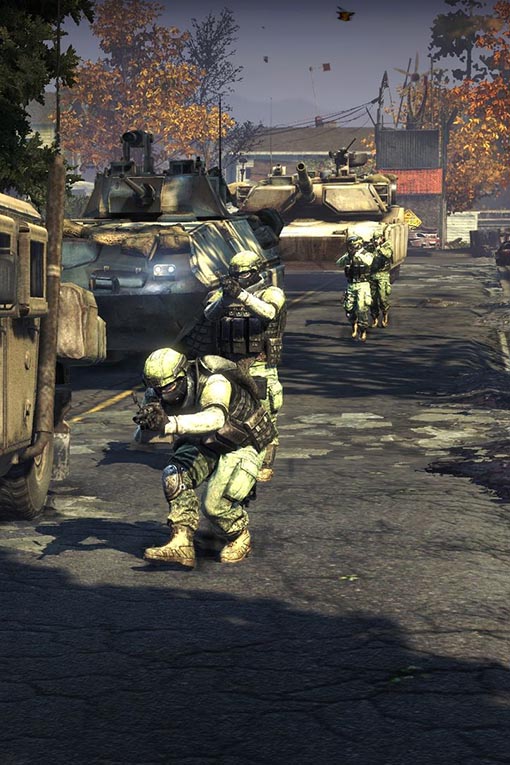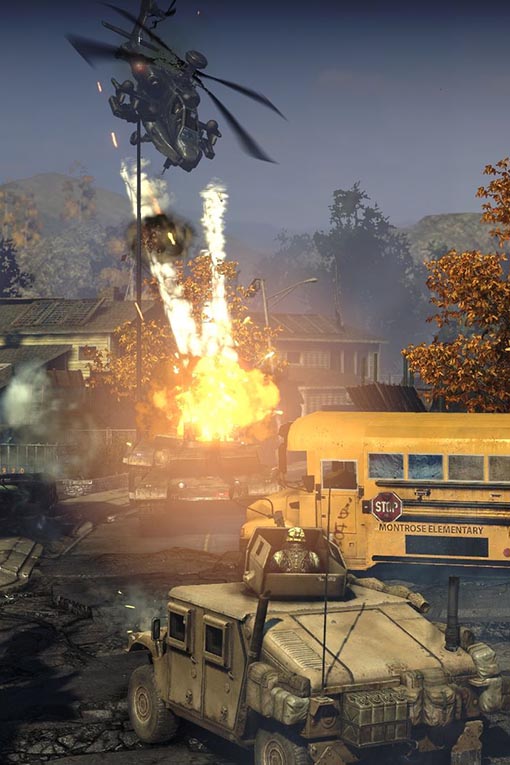 The Rock Map Pack is Now Available! Join the Resistance, stand united and fight for freedom against an overwhelming military force.
Description
The year is 2027. The world as we know it is unraveling after fifteen years of economic meltdown and widespread global conflict over dwindling natural resources.
A once proud America has fallen, her infrastructure shattered and military in disarray. Crippled by a devastating EMP strike, the USA is powerless to resist the ever expanding occupation of a savage, nuclear armed Greater Korean Republic.
Abandoned by her former allies, the United States is a bleak landscape of walled towns and abandoned suburbs. This is a police state where high school stadiums have become detention centers, and shopping malls shelter armored attack vehicles. A once-free people are now prisoners… or collaborators… or revolutionaries.
Join the Resistance, stand united and fight for freedom against an overwhelming military force in Homefront's gripping single player campaign penned by John Milius (Apocalypse Now, Red Dawn). Stand alongside a cast of memorable characters as an emotional plot unfolds in this terrifyingly plausible near-future world. Experience visceral, cinematic first-person shooter action as you fight your way across Occupied USA using guerrilla tactics, and commandeer military vehicles and advanced drone technology to defeat the enemy.
Multiplayer brings epic warfare to the online arena as infantry, tanks, attack helicopters and combat drones battle across huge, open battlefields. A rich feature set offering layers of tactical depth combined with a game-changing innovation in the multiplayer space will set a new benchmark in online warfare.
Game Features:
Discover a terrifyingly plausible near-future world – the familiar has become alien in this nightmare vision of Occupied USA
Fight for a cause – join a cast of memorable characters as your resistance cell wages a guerrilla war against overwhelming military odds in the name of Freedom
Witness the human cost of war – a gripping story from the pen of John Milius is told through immersive, interactive 1st person cut scenes
Experience explosive FPS gameplay – battle through a dynamic mix of infantry and vehicle combat in a gripping single player campaign boasting intense, memorable set pieces
Take the battle online – experience large scale multiplayer action like never before in epic infantry and vehicle warfare
Additional information
| | |
| --- | --- |
| Hardware | PC |
| Region | Worldwide |
| Platform | Steam |
| Genre | Action, Shooter |
| Metacritic Rating | 70 |
System Requirements
PC Requirements
Minimum:
OS: Windows XP, Windows Vista or Windows 7
Processor: Intel Pentium Core 2 Duo 2.4 GHz or AMD Athlon X2 2.8GHz
Memory: 2 GB RAM
Graphics: Shader Model 3.0 graphics card with 256MB of memory, NVIDIA GeForce 7900GS or ATI Radeon 1900XT
DirectX®:
Hard Drive: 10GB of free hard drive space
Recommended:
OS: Windows Vista or Windows 7
Processor: Intel or AMD Quad Core 2 GHz+ CPU
Memory: 2 GB RAM
Graphics: NVIDIA GeForce 260 or ATI Radeon 4850
DirectX®:
Hard Drive: 10GB of free hard drive space
Product FAQ
What's included with Homefront?
Homefront base game for PC – downloaded via Steam.
Is there any region lock for Homefront?
No. There is no region lock. This game can be played worldwide.
How will I receive my download for Homefront?
We process your order and send out your game key through a delivery email. This is typically done within 10-15 minutes during our online times (9am – 10pm UK). Once you receive your game key, you can follow our activation guide to redeem the key on the corresponding platform.
How do I activate the key for Homefront?
We provide a step-by-step guide for all platforms. Simply follow the activation guide provided with game key.
CD Key FAQ
All of our products are digitally delivered in the form of a CD key or product code. Our products are all redeemable via official platforms such as Steam, Origin, Xbox etc.
What is a CD key?
The CD key is the serial number or product code which is usually made up of a combination of letters and numbers. This key or code is used to activate the product and is normally found on a sticker inside the game case or booklet. When purchased the CD key allows you to register and activate the relevant game or software. All of our CD keys are currently provided in simple text format.
How does digital delivery work?
After completing the purchase at checkout we verify the purchase according to our fraud checks to ensure that the purchase is genuine. Following this you will receive an email containing your CD key or product code along with full download instructions.
Need further information?
If you require any further information then be sure to check our Frequently Asked Questions page.
If your question is not answered in the FAQ then please Contact Us.