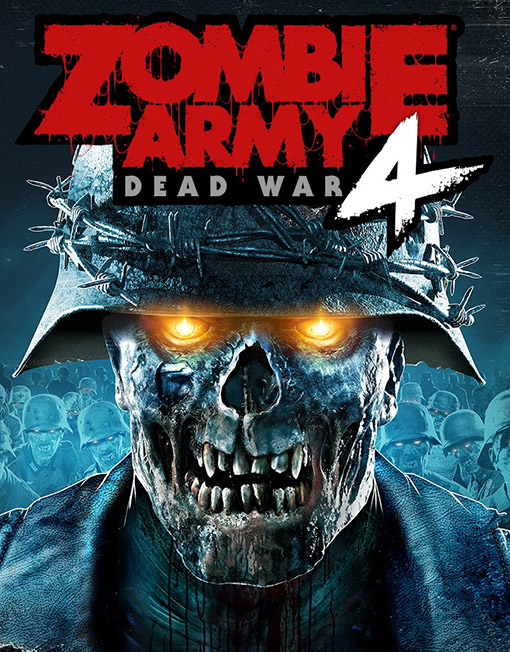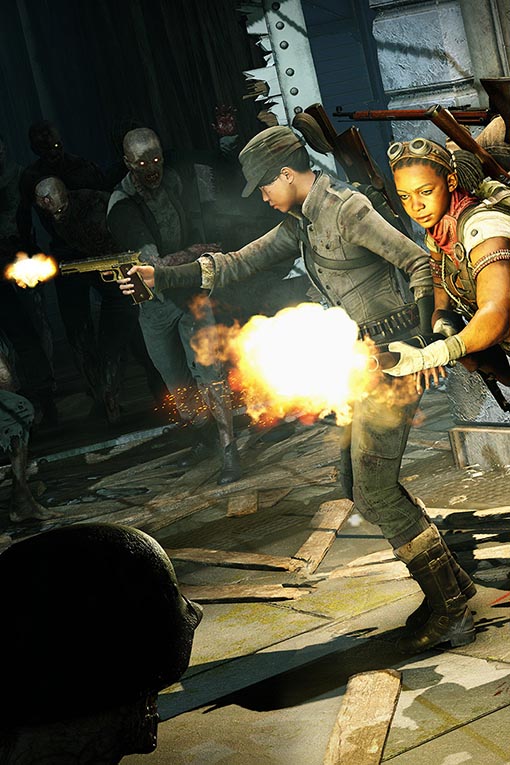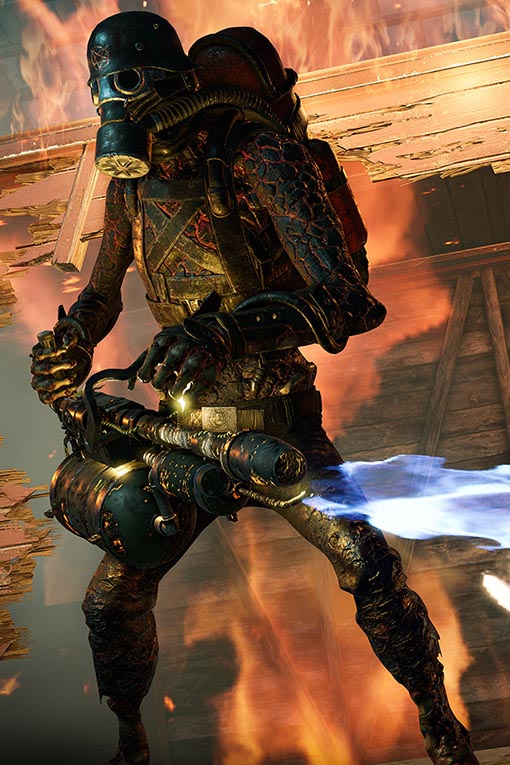 Hitler's hordes are back for more in this spine-chilling shooter from the makers of Sniper Elite 4! Abominable occult enemies, epic weapons and a harrowing new campaign for 1-4 players await in 1940s Europe, as you fight to save humankind from undead Armageddon!
Description
Super Deluxe Edition includes:
Augment your Zombie Army 4 experience with an entire season of post-launch content with the Super Deluxe Edition.
The Zombie Army 4 Super Deluxe Edition includes:
MAIN GAME
ZOMBIE ARMY 4: SEASON PASS ONE, INCLUDING;
3 ADDITIONAL LEVELS
Experience blood-curdling new campaign missions for 1-4 players.
4 CHARACTER PACKS
New playable characters to be used in any mode.
9 WEAPON BUNDLES
Weapon bundles including new weapons, charms, skins and more.
5 WEAPON SKIN PACKS
Customise your weapons, with effects ranging from wrapping paper to hot lava.
4 CHARACTER OUTFIT BUNDLES
Dress up your characters with new outfits and hats.
---
Deluxe Edition includes:
The Zombie Army 4 Deluxe Edition includes:
MAIN GAME
ADDITIONAL CHARACTER PACK
Playable Character: Undead Airman
ADDITIONAL WEAPON SKIN PACK
Weapon Skins: Solid Gold
ADDITIONAL WEAPON BUNDLE
Weapon Bundle: FG-42 Semi-auto Rifle (Includes 1 Weapon, 2 Charms, 2 Bespoke Weapon Skins)
ADDITIONAL CHARACTER OUTFIT BUNDLE
Character Outfit: Undercover Karl (1 Costume, 2 Hats)
---
Zombie Army 4: Dead War:
Hitler's hordes are back for more in this spine-chilling shooter from the makers of Sniper Elite 4! Abominable occult enemies, epic weapons and a harrowing new campaign for 1-4 players await in 1940s Europe, as you fight to save humankind from undead Armageddon!
Shocking New Campaign
The resistance have defeated Zombie Hitler and cast him into Hell – but the dead rise once again with greater hunger than before!
Continue the alternate history of Zombie Army Trilogy in huge new levels, and uncover a sinister plan that takes the Survivor Brigade across Italy and beyond!
Fight the forces of darkness in corpse-riddled canals, survive a Zombie Zoo, and journey to dark, inexplicable places no person has been before… and lived to tell the tale!
Award-Winning Gunplay
Experience the genre-defining ballistics Rebellion made famous in the Sniper Elite series, and put it to good use against the shambling hordes of the damned!
Upgraded Kill Cams and Dismemberment
The X-Ray Kill Camera returns! Watch in gory-ous slow motion as bullets, bombs and more destroy bones and organs in X-ray. Marvel as your bullets tear off a rotten limb or two, and shiver as the dead KEEP COMING!
Deep Progression and Customisation
Build the slayer that suits you as you rank up! Fancy yourself a guardian angel? Take damage for your teammates! Like that turret so much? Why not take it with you? Then kill in style as you unlock new outfits, emotes and taunts!
Killer Melee
When the dead surround you, fight back with enhanced melee combat! Barge through crowds, stomp on heads and dispatch the living dead with fearsome takedown moves!
Epic Weaponry
Harness the power of fire, lightning, and divine essence to upgrade your guns at workbenches, and create homespun hell raisers! An assault rifle that shoots lightning? A pistol with a flaming Bayonet? Anything goes in humankind's last stand!
Monstrous Multitudes
Take on legions of ghoulish grabbers, hulking armoured elites, terrifying shadow demons, explosive suicide generals and a host of other surprises! When you're staring down the fleshy barrel of a ZOMBIE TANK, you'll wish you'd stayed behind the sofa!
Bigger, Badder Horde Mode
Extend your SLAYcation in the expanded Horde Mode. The longer you survive, the bigger the map gets. How long can you fight back without joining the horde of the LIVING DEAD?
Extend Your Slay-Cation!
Want more? Additional seasons of Zombie Army 4 are out now! Unveil the secrets of the occult in the new 3-part 'Hell Cult' campaign and face off against the terror of the skies in the horrifying 'Death From Above'! From extra missions to new characters, weapons and more, get ready to blow apart your undead foes in new and terrifying ways!
Additional information
| | |
| --- | --- |
| Hardware | PC |
| Region | Worldwide |
| Platform | Steam |
| Genre | Action, Horror, Shooter |
| Metacritic Rating | 74 |
System Requirements
PC Requirements
Minimum:
Requires a 64-bit processor and operating system
OS: Windows 10 64-bit / Windows 7 64-bit*
Processor: Intel Core i3-6100 (or AMD equivalent)
Memory: 4 GB RAM
Graphics: Nvidia GT 1030 2GB (or AMD equivalent)
Storage: 60 GB available space
Additional Notes: *Windows 7 64-bit version 7601 supported only via the Vulkan launcher option.
Product FAQ
What platform is Zombie Army 4 Dead War redeemed on?
Zombie Army 4 Dead War is redeemed via Steam and can be played on PC.
Is there any region lock for Zombie Army 4 Dead War?
No. There is no region lock. This game can be played worldwide.
How will I receive my download for Zombie Army 4 Dead War?
We process your order and send out your game key through a delivery email. This is typically done within 10-15 minutes during our online times (9am – 10pm UK). Once you receive your game key, you can follow our activation guide to redeem the key on the corresponding platform.
How do I activate the key for Zombie Army 4 Dead War?
We provide a step-by-step guide for all platforms. Simply follow the activation guide provided with game key.
CD Key FAQ
All of our products are digitally delivered in the form of a CD key or product code. Our products are all redeemable via official platforms such as Steam, Origin, Xbox etc.
What is a CD key?
The CD key is the serial number or product code which is usually made up of a combination of letters and numbers. This key or code is used to activate the product and is normally found on a sticker inside the game case or booklet. When purchased the CD key allows you to register and activate the relevant game or software. All of our CD keys are currently provided in simple text format.
How does digital delivery work?
After completing the purchase at checkout we verify the purchase according to our fraud checks to ensure that the purchase is genuine. Following this you will receive an email containing your CD key or product code along with full download instructions.
Need further information?
If you require any further information then be sure to check our Frequently Asked Questions page.
If your question is not answered in the FAQ then please Contact Us.