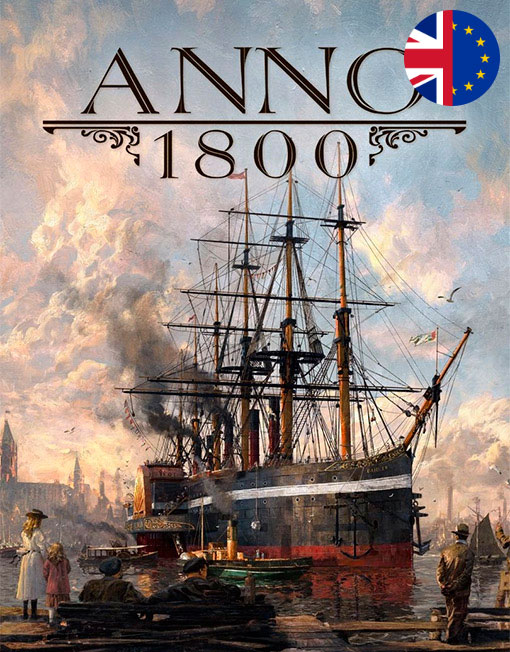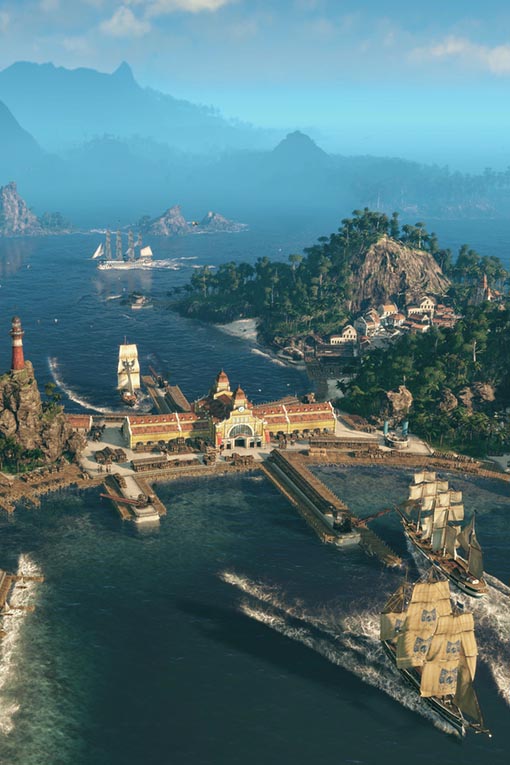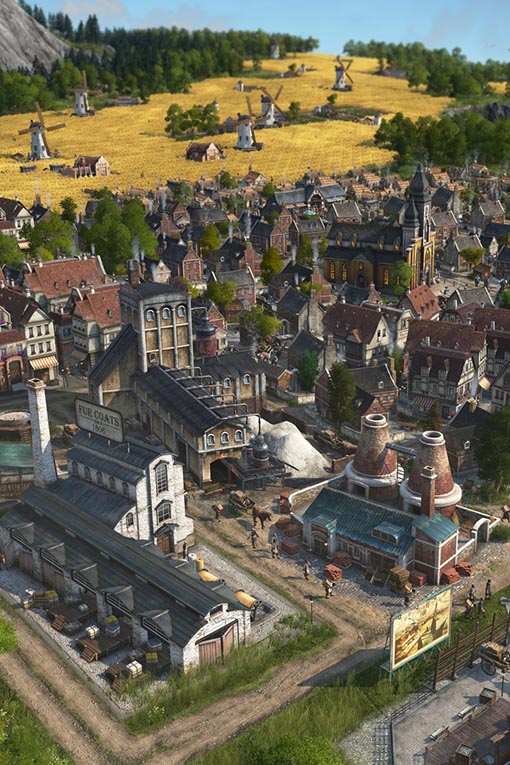 Anno 1800 – Lead the Industrial Revolution! Welcome to the dawn of the Industrial Age. The path you choose will define your world. Are you an innovator or an exploiter? A conqueror or a liberator? How the world remembers your name is up to you.
Region Locked: UK/EU ONLY
Description
In Anno 1800, players will take charge of their own fortune as they navigate the rapidly evolving technological landscape and malicious political arena of the 19th century in their quest to build an empire that will reach from the smog-filled cities of Europe to the teeming jungles of South America.
Combining beloved features with innovative gameplay, Anno 1800 is the beginning of a new era for the Anno franchise as players leave their mark on a crucial moment in human history.
Game Features:
THE DAWN OF A NEW ERA
Welcome to the 19th century, a time of industrialization, diplomacy, and discovery. Rich with technological innovations, conspiracies, and changing allegiances, this era presents the perfect setting for classic Anno gameplay. Anno 1800 provides players ample opportunity to prove their skills as a ruler as they create huge metropolises, plan efficient logistic networks, settle an exotic new continent, send out expeditions around the globe, and dominate their opponents by diplomacy, trade, or warfare.
A CLASSIC ANNO EXPERIENCE
Anno 1800 combines beloved features from 20 years of Anno history. It delivers a rich city-building experience, including a story-based campaign, a highly customizable sandbox mode, and the classic Anno multiplayer experience. Anno 1800 will see the return of beloved features such as individual AI opponents, shippable trade goods, randomly generated maps, multi-session gameplay, items, and more.
NEW FEATURES FOR A NEW AGE
To bring this pivotal historical era to life, Anno 1800 introduces many all-new features to the franchise's rich tradition. Expeditions allow players to send crews of specialists across the globe as they seek fame and fortune, while the new workforce feature makes managing your factories more demanding and realistic than ever. Finally, players will settle South America as they lay claim to the black gold powering this new age of industry.
CHOOSE YOUR STRATEGY FOR VICTORY
Leading prosperous metropolises requires you to adapt your strategy to new situations. Fulfil the needs of your inhabitants by establishing numerous production chains, deal with other AI rulers sharing your world, and rise to prosperity by building a profitable network of trade routes.
JUMP ABOARD THE ANNO UNION
Join the team from Ubisoft Blue Byte in the creation of Anno 1800. Get the latest news, development insights, and behind-the-scenes content on anno-union.com and help us shape the game as we regularly invite gamers to share their feedback, vote on features, create content, and test the game during development.
Additional information
| | |
| --- | --- |
| Hardware | PC |
| Region | UK / EU |
| Platform | Ubisoft Connect |
| Genre | Simulation, Strategy |
System Requirements
PC Requirements
Minimum:
OS: Windows 7 SP1, Windows 8.1 or Windows 10Microsoft Windows 7, Windows 8.1 or Windows 10(64-bit versions only)
Processor: Intel i5 3470, AMD FX 6350
Memory: 8 GB RAM
Graphics: NVIDIA GeForce 670 GTX or AMD Radeon R9 285 (2 GB of VRAM, Shader Model 5.0)
DirectX: Version 11
Storage: 60 GB available space
Recommended:
OS: Microsoft Windows 7, Windows 8.1 or Windows 10(64-bit versions only)
Processor: Intel i5 4690k, AMD Ryzen 5 1400
Memory: 8 GB RAM
Graphics: NVIDIA GeForce 970 GTX or AMD Radeon RX 480 (4 GB of VRAM, Shader Model 5.1)
DirectX: Version 12
Storage: 60 GB available space
Product FAQ
What's included with Anno 1800?
Anno 1800 base game for PC – downloaded via Uplay.
Is there any region lock for Anno 1800?
Yes. This game is region locked to the UK & EU only.
How will I receive my download for Anno 1800?
We process your order and send out your game key through a delivery email. This is typically done within 10-15 minutes during our online times (9am – 10pm UK). Once you receive your game key, you can follow our activation guide to redeem the key on the corresponding platform.
How do I activate the key for Anno 1800?
We provide a step-by-step guide for all platforms. Simply follow the activation guide provided with game key.
CD Key FAQ
All of our products are digitally delivered in the form of a CD key or product code. Our products are all redeemable via official platforms such as Steam, Origin, Xbox etc.
What is a CD key?
The CD key is the serial number or product code which is usually made up of a combination of letters and numbers. This key or code is used to activate the product and is normally found on a sticker inside the game case or booklet. When purchased the CD key allows you to register and activate the relevant game or software. All of our CD keys are currently provided in simple text format.
How does digital delivery work?
After completing the purchase at checkout we verify the purchase according to our fraud checks to ensure that the purchase is genuine. Following this you will receive an email containing your CD key or product code along with full download instructions.
Need further information?
If you require any further information then be sure to check our Frequently Asked Questions page.
If your question is not answered in the FAQ then please Contact Us.