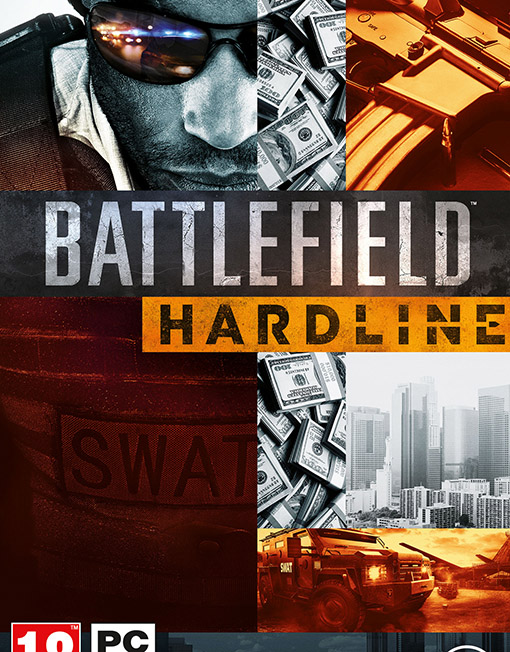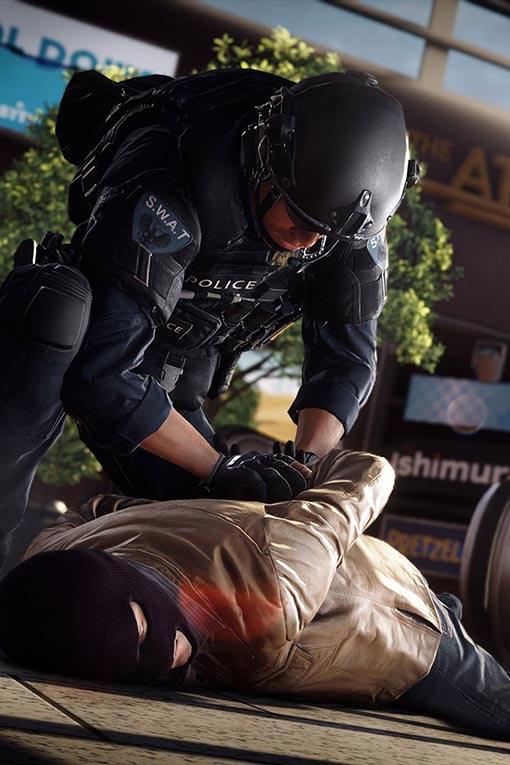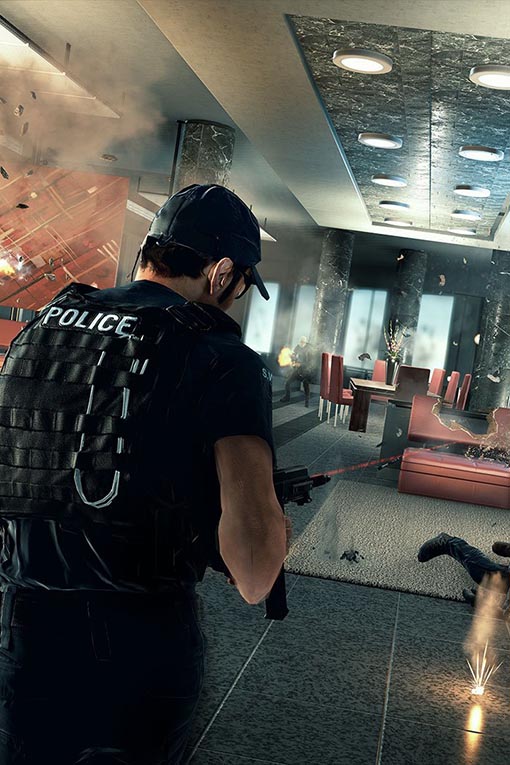 Join the Heist like a Pro.
It's cops vs. criminals, Battlefield style. A solo and multiplayer shooter experience straight out of a classic crime drama.
Description
Join the Heist like a Pro.
A security truck loaded with cash lays abandoned in a parking garage, and you only have seconds to cram as much cash as possible into your backpack before the cops arrive. Stray bills flutter behind you as you make a mad dash for the elevators. When you get to the roof a teammate jumps on the zip-line, but you choose a more direct route and swan-dive over the edge of the building. Your chute deploys. Bullets are whizzing far too close for comfort. The moment you hit the pavement it's a straight-out sprint to the getaway van. Sirens are blaring. Cops are on the way. And that's when you notice the massive crane crashing down. This is just a day in the life of the Battlefield Hardline player.
Dramatic cops vs. criminals campaign. Crafted by the storytellers at Visceral, developers of the Dead Space trilogy, Hardline's single-player story puts you in the shoes of detective Nick Mendoza in an episodic crime drama. Lead your crew and employ new tactics to gather intel, obtain warrants, and make non-lethal arrests.
The fastest Battlefield ever. The change from military conflicts to criminal encounters makes for a new, fast-paced take on Battlefield that has you playing on both sides of the law. Pull off the perfect heist and zip-line between buildings to get away with the cash, or pursue criminals in intense chases at blistering speeds and take them down – either way, the action will keep you on your toes. Even so, this is a true Battlefield experience. With destructible environments, modern-day weaponry, high-performance vehicles, and massive encounters, you'll feel right at home.
New modes, new gadgets, new strategies. While classic Battlefield modes like Conquest remain intact, Battlefield Hardline features four all-new modes. Steal cash from armored trucks and make an escape in Heist; fight for control of a crate of loot in Blood Money; chase down criminals at high speeds in Hotwire; and save hostages in Rescue. Plus, new gadgets like the grappling hook and zip-line will change the way you play.
Additional information
| | |
| --- | --- |
| Hardware | PC |
| Region | Worldwide |
| Platform | EA App |
| Genre | Shooter |
| Metacritic Rating | 71 |
System Requirements
PC Requirements
Minimum:
OS: Windows Vista SP2 64-bit (with KB971512 update)
Processor: Athlon II/Phenom II 2.8 GHz, Intel Core I3/I5 2.4GHz
Memory: 4 GB
Graphics Card: ATI 5770 with 1GB VRAM or better/Nvidia GTX260 with 896MB VRAM or better
Hard Drive: 60 GB
DirectX: 11.0
Recommended:
OS: Windows 8 64-bit (with KB971512 update)
Processor: Intel Quad-Core CPU, AMD Six-Core CPU
Memory: 8 GB RAM
Graphics Card: AMD 290, Nvidia GTX760
Graphics Memory: 3 GB
Hard Drive: 60 GB
DirectX: 11.0
Product FAQ
What's included with Battlefield Hardline?
Battlefield Hardline base game for PC – downloaded via Origin.
Is there any region lock for Battlefield Hardline?
No. There is no region lock. This game can be played worldwide.
How will I receive my download for Battlefield Hardline?
We process your order and send out your game key through a delivery email. This is typically done within 10-15 minutes during our online times (9am – 10pm UK). Once you receive your game key, you can follow our activation guide to redeem the key on the corresponding platform.
How do I activate the key for Battlefield Hardline?
We provide a step-by-step guide for all platforms. Simply follow the activation guide provided with game key.
CD Key FAQ
All of our products are digitally delivered in the form of a CD key or product code. Our products are all redeemable via official platforms such as Steam, Origin, Xbox etc.
What is a CD key?
The CD key is the serial number or product code which is usually made up of a combination of letters and numbers. This key or code is used to activate the product and is normally found on a sticker inside the game case or booklet. When purchased the CD key allows you to register and activate the relevant game or software. All of our CD keys are currently provided in simple text format.
How does digital delivery work?
After completing the purchase at checkout we verify the purchase according to our fraud checks to ensure that the purchase is genuine. Following this you will receive an email containing your CD key or product code along with full download instructions.
Need further information?
If you require any further information then be sure to check our Frequently Asked Questions page.
If your question is not answered in the FAQ then please Contact Us.