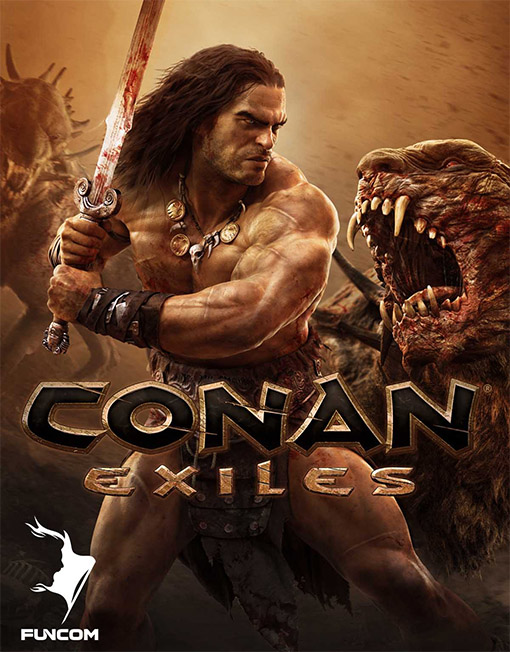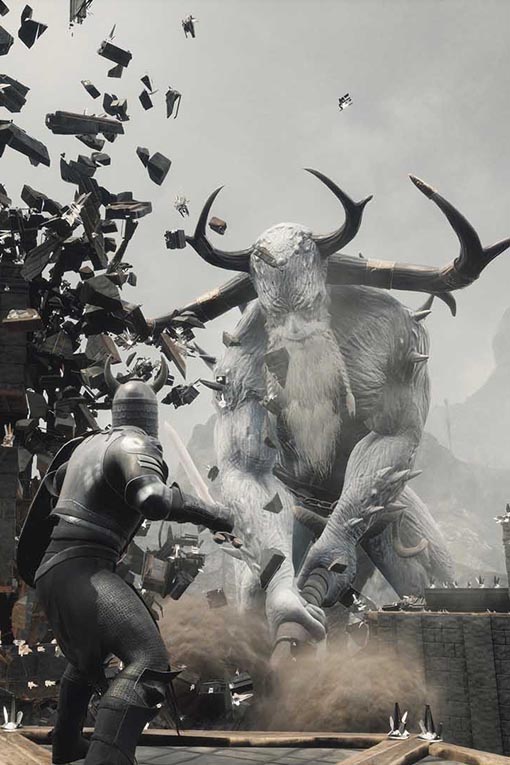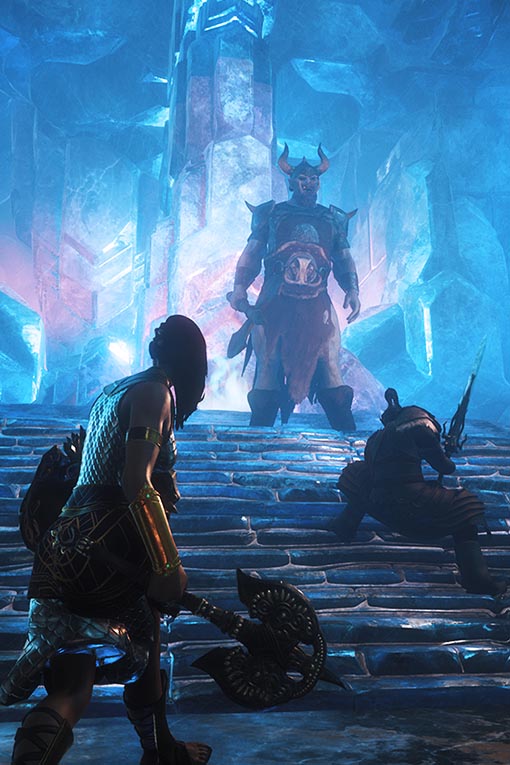 An open world survival game set in the lands of Conan the Barbarian. Survive in a vast and seamless world, build a home and kingdom, dominate your enemies in single and multiplayer.
Description
Conan Exiles is an open world survival game set in the lands of Conan the Barbarian. Survive in a savage world, build a home and a kingdom, and dominate your enemies in epic warfare.
After Conan himself saves your life by cutting you down from the corpse tree, you must quickly learn to survive. Weather scouring sandstorms, shield yourself from intense temperatures, and hunt animals for food and resources. Explore a vast and seamless world, from the burning desert in the south to the snow-capped mountains of the north.
Forge the legacy of your clan as you fight to reclaim and dominate the Exiled Lands. Use the powerful building system to create anything from a small home to entire cities piece by piece. Wage war using swords, bows, siege weapons, and even take control of giant avatars of the gods to crush the homes of your enemies in epic battles.
Conan Exiles can be played in full single-player, coop, or persistent online multiplayer.
EXPLORE A VAST, OPEN WORLD
Journey through a massive and seamless open world. From the rolling sand dunes of the southern desert, through the mysterious eastern swamp and the snow-capped mountains of the frozen north. Climb anywhere and experience full freedom of exploration.
BUILD A HOME AND A KINGDOM
Harvest resources to craft tools and weapons, then build anything from a small home to entire cities piece by piece using a powerful building system. Place traps, elevators, and defenses, then deck out your creations with furniture, crafting stations, and more.
SURVIVE IN A SAVAGE LAND
Dress well or light a campfire to stay warm and make sure to cool yourself down in the heat. Hunt, cook, eat, and drink to stay alive. Build a shelter to weather scouring sandstorms. Be careful when exploring darkened ruins or you might become corrupted by foul magic.
DOMINATE THE EXILED LANDS
Carve out your piece of the Exiled Lands, taking it from other players if you must! Build siege weapons and use explosives to break down the walls of your enemy's city. Place out traps, recruit thralls, and build defenses to keep your enemies from invading yours.
BRUTAL, BLOODY COMBAT
Fight vicious monsters and other players using an action-oriented, combo-based combat system. Dodge, block, and learn to master the true art of combat to become the greatest fighter in the Exiled Lands. Slay using bows, daggers, swords, axes, and more.
BECOME A TOWERING GOD
Alight yourself with one of four deities such as Derketo, the goddess of lust and death. Bring your sacrifices to the altar of your god then summon and take control of their huge, towering avatar. Crush enemies and entire buildings under your avatar's feet.
DEFEND YOUR BASE FROM INVADING MONSTERS
Eventually you will attract the attention of monsters and other NPC inhabitants of the Exiled Lands, causing a Purge event. Depending on where you built your home, different types of monsters will attack and try to destroy it. Plan your defenses well!
ENSLAVE THRALLS TO DO YOUR BIDDING
Enslave the criminals of the Exiled Lands and make them join your cause and defend your territory. Put them through the grueling Wheel of Pain to break their will, then turn them into archers, fighters, crafters, entertainers, and more.
DISCOVER THE RUINS OF ANCIENT CIVILIZATIONS
From the Black Keep in the north to the Dregs along the southern river, discover the ruins of ancient civilizations and solve their mysteries to gain access to their treasure. Uncover the history of the Exiled Lands you as you explore, uncover lore, and meet NPCs.
PLAY TOGETHER OR ALONE
Play alone locally or fight for survival and dominance in persistent multiplayer on public servers. You can also host your own server and invite others to join you in a world where you have full control of the rules and settings. Want to play with just handful of friends? Try co-op mode!
CONTROL YOUR EXPERIENCE
When playing alone locally or on a server you are the administrator of you have access to a range of in-game tools. Change your progression speed, spawn monsters, turn yourself invisible, deactivate avatars, and much more. Be the dungeon master of your own server.
Additional information
| | |
| --- | --- |
| Hardware | PC |
| Region | Worldwide |
| Platform | Steam |
| Genre | Action, RPG, Survival |
| Metacritic Rating | 68 |
System Requirements
PC Requirements
Minimum:
Requires a 64-bit processor and operating system
OS: Windows 7 64 Bit/ Windows 8 64 Bit/ Windows 10 64 Bit
Processor: Intel Quad Core i5-2300 or AMD FX-6300
Memory: 6 GB RAM
Graphics: Nvidia GeForce GTX 560 (1GB) or AMD Radeon HD 7770 (1GB)
DirectX: Version 11
Network: Broadband Internet connection
Storage: 50 GB available space
Recommended:
Requires a 64-bit processor and operating system
OS: Windows 7 64 bit / Windows 8 64 bit / Windows 10 64 bit
Processor: Intel Quad Core i7 3770K or AMD Ryzen 7 1600X
Memory: 8 GB RAM
Graphics: nVidia GeForce GTX 780 Ti/970 (High settings) and 1070 (Ultra settings) or AMD R9 290/AMD RX480 (High settings)
DirectX: Version 11
Network: Broadband Internet connection
Storage: 50 GB available space
Product FAQ
What's included with Conan Exiles?
Conan Exiles base game for PC – downloaded via Steam.
Is there any region lock for Conan Exiles?
No. There is no region lock. This game can be played worldwide.
How will I receive my download for Conan Exiles?
We process your order and send out your game key through a delivery email. This is typically done within 10-15 minutes during our online times (9am – 10pm UK). Once you receive your game key, you can follow our activation guide to redeem the key on the corresponding platform.
How do I activate the key for Conan Exiles?
We provide a step-by-step guide for all platforms. Simply follow the activation guide provided with game key.
CD Key FAQ
All of our products are digitally delivered in the form of a CD key or product code. Our products are all redeemable via official platforms such as Steam, Origin, Xbox etc.
What is a CD key?
The CD key is the serial number or product code which is usually made up of a combination of letters and numbers. This key or code is used to activate the product and is normally found on a sticker inside the game case or booklet. When purchased the CD key allows you to register and activate the relevant game or software. All of our CD keys are currently provided in simple text format.
How does digital delivery work?
After completing the purchase at checkout we verify the purchase according to our fraud checks to ensure that the purchase is genuine. Following this you will receive an email containing your CD key or product code along with full download instructions.
Need further information?
If you require any further information then be sure to check our Frequently Asked Questions page.
If your question is not answered in the FAQ then please Contact Us.